THE R
EV

OLUTION IS IN KENTUCKY
Kentucky: America's Electric Vehicle Manufacturing Hub
---
Kentucky is the premier location in the U.S. to manufacture electric vehicles and their parts. Everything that goes into electric vehicles; motors, batteries, brakes or tires - can all be made and shipped to anywhere in the country easily. Competitive energy pricing, ample land, knowledgeable workforce and the best shipping and supply system add up to winning combination that cannot fail.
As the nation's leading producer of light vehicles per capita, Kentucky is a particularly great fit for automotive-related businesses. These companies benefit not only from Kentucky's best-in-class cost of doing business and supportive corporate environment, but their employees also enjoy the shorter commute times, lower cost of living and several other advantages that lead to a higher quality of life.
---
Facts You Should Know
---
Kentucky is the

#1 producer

of cars, light trucks, and SUVs per capita
Auto Alley

525+

automotive-related facilities in Kentucky
Kentucky is home to

four major assembly plants

Ford (two plants), General Motors and Toyota

$10.8 billion

announced investments by automotive-related facilities since 2014

1 out of every 16

workers in the US automotive industry work in Kentucky

100,000

individuals employed in automotive-related establishments located in Kentucky
Your Contact
---
---
Kristina Slattery
Deputy Commissioner
Business Development
Kentucky Cabinet for Economic Development
800.626.2930
502.564.7670
Kristina.Slattery@ky.gov
Low Utility Costs
---
Among the more significant location factors having a direct influence on bottom line costs is the annual capital that must be committed to utility consumption. Kentucky has the lowest cost of electricity in the industrial sector among states east of the Mississippi River and one of the lowest in the U.S., coming in at 21% lower than the national average.

INDUSTRIAL ELECTRICITY AVERAGE PRICE

Energy Information Admin., average price by state, released 2019
---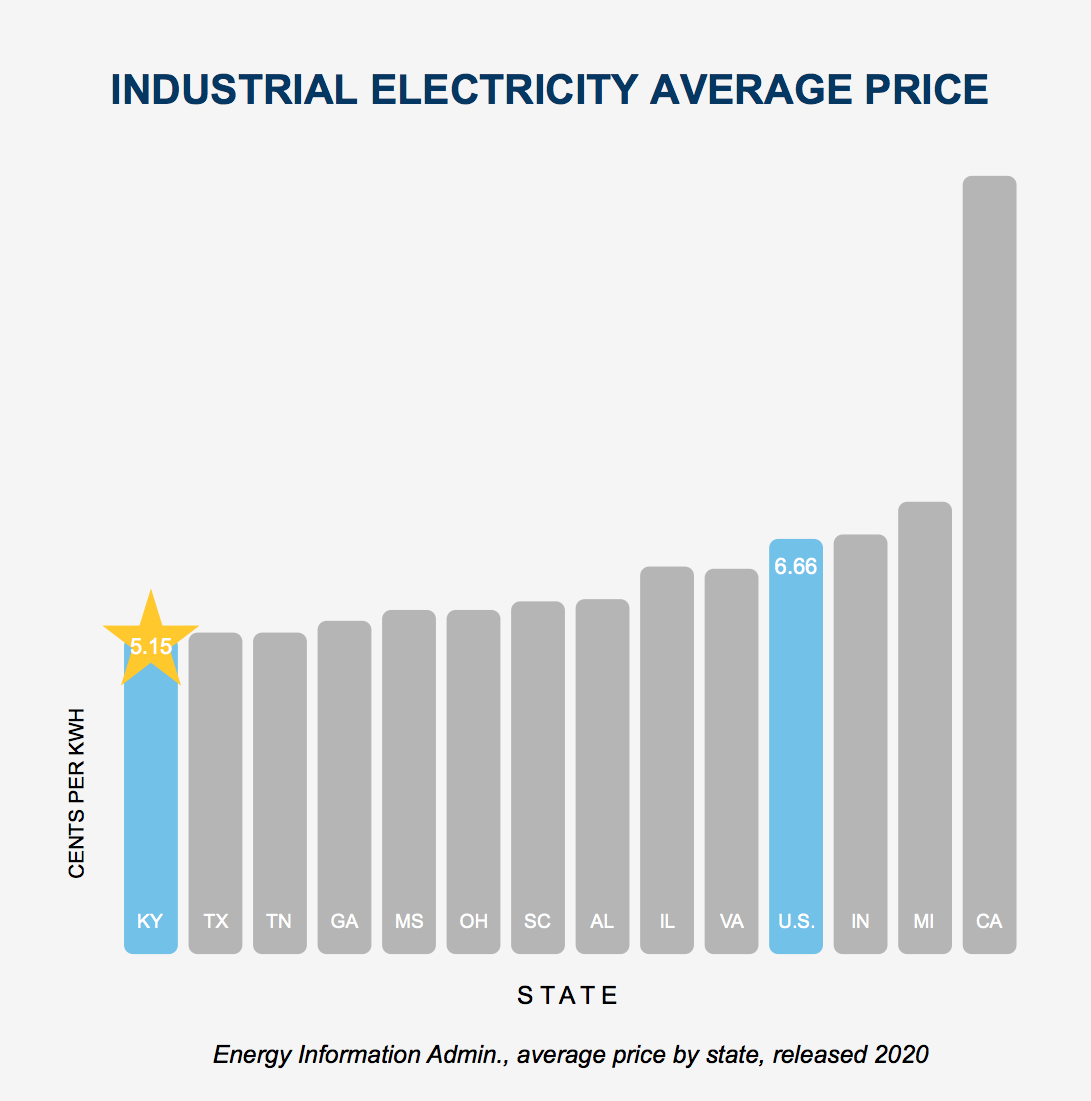 Global Logistics Capacity
2nd in total air Cargo, Kentucky is the only state to boast three major air cargo hubs: (UPS, DHL and Amazon Air)
DHL's global hub in Kentucky handles about 90% of DHL shipments entering the U.S.
FedEx recently expanded its ground facilities in Louisville and Northern Kentucky.
UPS Worldport in Kentucky is the largest fully automated package-handling facility in the world.
Amazon Air's $1.5 billion hub came online in 2021.
Low Taxes
---
Kentucky's innovative and progressive tax incentive programs also provide the flexible financial assistance businesses need when locating, expanding or reinvesting in the state. Kentucky ranks in the
Top 20
for corporate income taxes, individual income taxes, and sales taxes.
---
24th
2020 Business Tax Climate Index
5%
Corporate Income Tax Rates
6%
Sales Tax Rate
9.5%
State and Local Tax Burden Per Capita
---
Source: Tax Foundation
---
Kentucky is within one day's drive of two-thirds of the U.S. population
---
Kentucky's logistical advantage is unmatched. Click the cities below to measure distance.
---
---
Louisville
Lexington
Bowling Green
Owensboro
Covington
New York
Charlotte
Washington DC
Chicago
Atlanta
Available Sites & Buildings
View available assets ready for relocation
---
---
What They Say
---
Every time we've invested here, the community and state have reaffirmed this is the right location for future growth.
---
Luke Durudogan
President, Meggit Aircraft Braking Systems

For 50 years, Dow has been an employer, neighbor and corporate partner in the region. We are proud of how far the Carrollton site has come and excited to recommit to the site with the groundbreaking of the new Cabot plant.
---
Howard Ungerleider
CFO, DowDuPont

Kentucky's state resources and strong local workforce have provided us with a significant leg up in getting this project off the ground.
---
Stephen Croskey
CEO, Danimer Scientific
---
Cost of Living
Kentucky is 10.3% lower than the national average
(Source: JobsEQ)
Commute Time
Kentucky's average commute time is 23.5 minutes
(Source: U.S. Census)
Safe Environment
Kentucky ranks #13 as safest states to live
(US News and World Report)
Kentucky is proud to promote
---
The Company We Keep
---